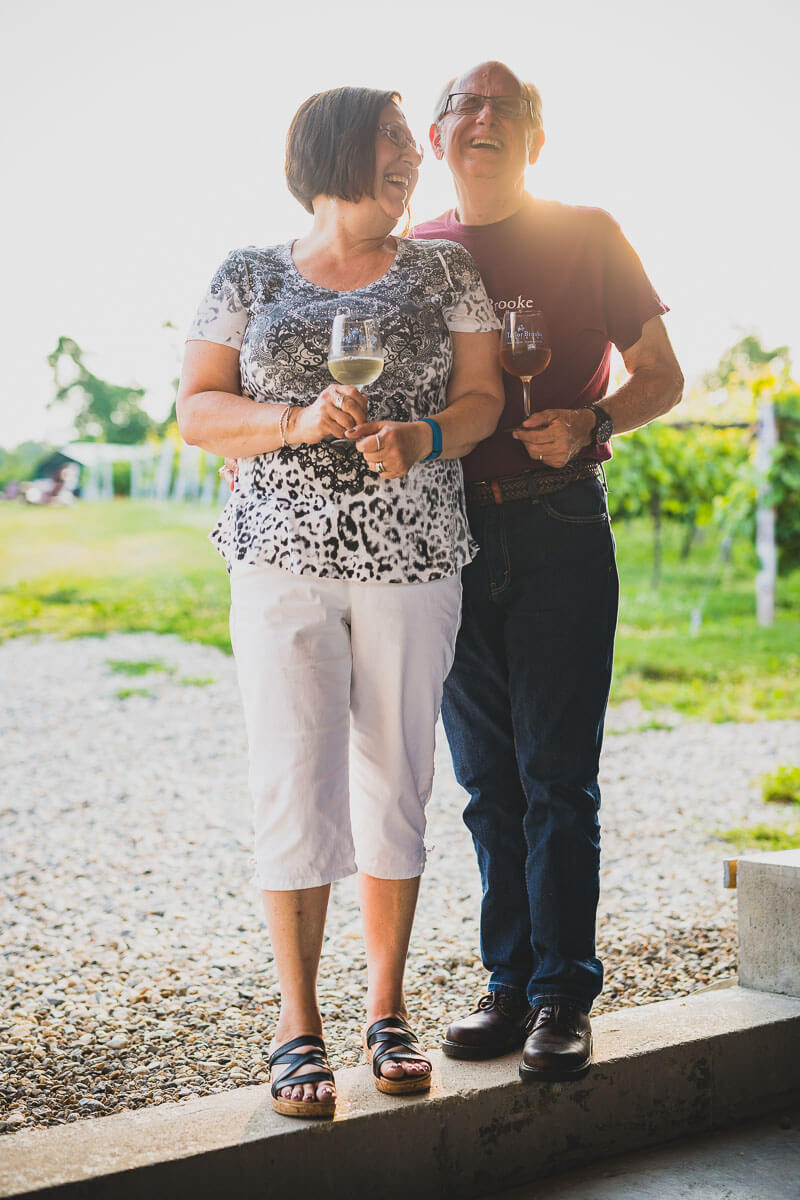 The Founders
Richard (Dick) A. Auger, Winemaker/Co-Founding Owner (March 19, 1955 – March 3, 2017)
Dick was a co-founder and owner of Taylor Brooke Winery. 25 years ago Dick found himself working for a biotech start up filled with engineers, chemists, and biologists who tinkered in their home labs brewing beer. Never a fan of beer, Dick participated by making wine, drawing on the knowledge of his colleagues to work out the kinks in the wine making process. That tinkering was the inspiration that eventually led to the development of Taylor Brooke Winery 10 years later.
Due to his inability to sit still and and relax, Dick felt compelled to build this winery while working his very full time job as a Global Director of Facilities Management for top firms in the U.S. He traveled often for work, returning inspired from local cuisine and beverage. Dick's passion in the kitchen translated quite easily to passion for developing new wines.
Dick's recent passing was a devastating loss to all he touched over the last 12 years of being in business. We his family intend to honor his vision of inclusion and expansion, of education and community, by moving forward as he would have wanted.
Linda Auger, Tasting Room Manager/Co-Founding Owner
Linda is a co-founder and owner of Taylor Brooke Winery. You could say Linda started it all when she purchased a wine kit for Dick as a Christmas gift 22 years ago. Linda's primary focus is as Tasting Room manager. She runs a highly curated retail shop of locally sourced goods. On the weekends, she spends most of her time in the tasting room managing staff and assisting guests. She is also in charge of all things HR, marketing, and social media, and is our business manager. Linda represents Taylor Brooke winery on countless boards and committees, focusing on promoting and preserving small businesses and local agriculture.
The Winemaker
Nikki Auger, Winemaker/Co-Owner
Nikki is co-owner and Winemaker at Taylor Brooke Winery. She began making wine in the kitchen with Dick when she was 16, and joined him as his assistant making wine and directing operations of the vineyard and winery in August 2016. She previously spent over 15 years in the food and beverage industry working at top restaurants in Boston, as well as wineries in Northern California. During the week she can be found in the cellar tasting, testing, strategizing with the vineyard team, and overseeing winery operations.