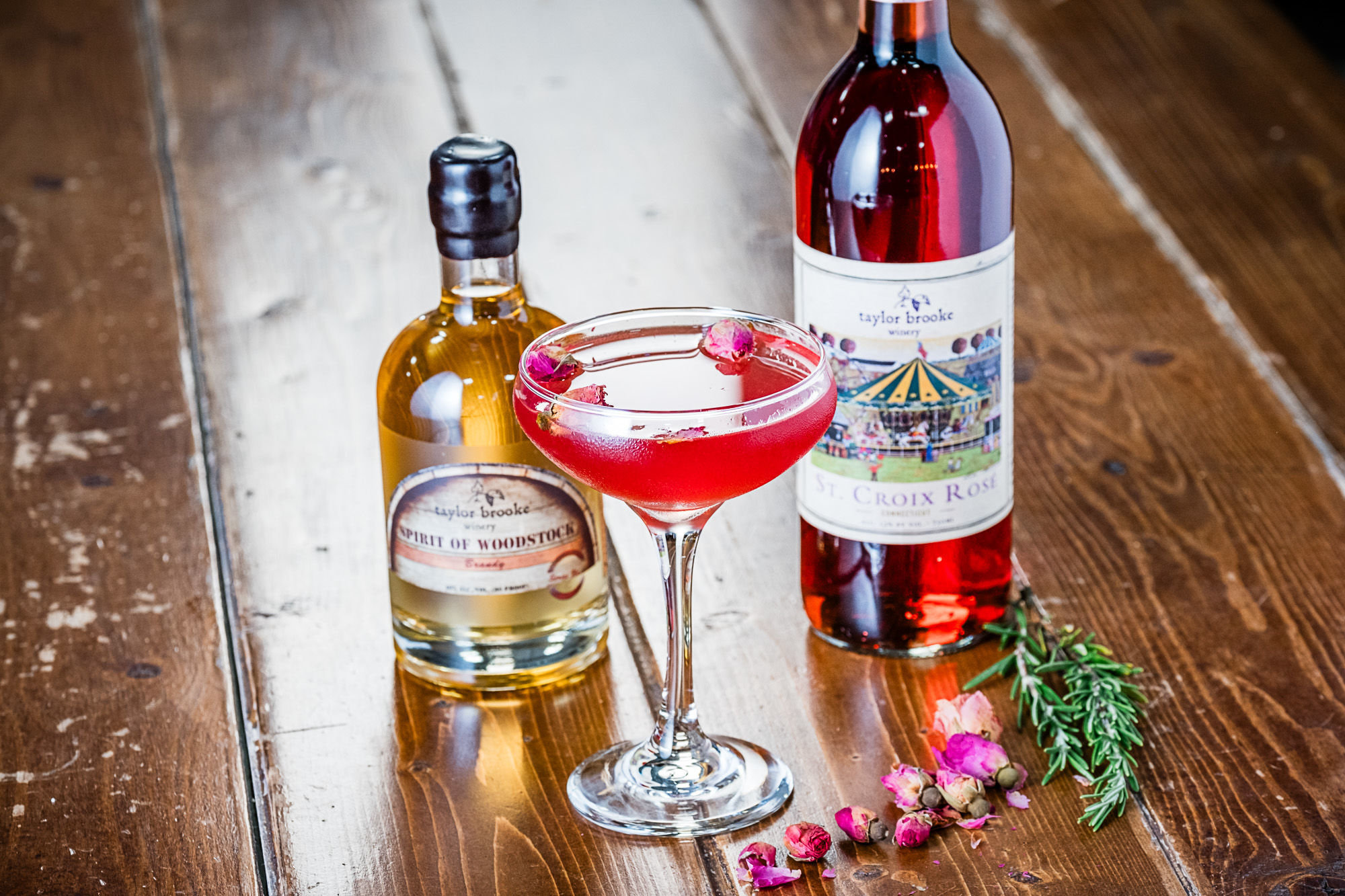 Welcome to our farm-focused cocktail bar, now open weekends
Taylor Brooke Farm is excited to bring you our craft made cocktails featuring our Spirit of Woodstock Brandy. All cocktails are made with freshly squeezed juices and housemade syrups made from premium ingredients. We have a thoughtfully curated menu that reflects our standards for quality and flavor.
Our cocktails are an alchemy of botany and fermenting. Our little apothecary cocktail bar, nestled inside our winery like a speakeasy, is the newest way to experience Taylor Brooke. See menu below.
Why cocktails? A note from owner, winemaker, and cocktail creator – Nikki Auger
Before I was a winemaker and vineyard manager, I was a server and a bartender. I had been exclusively thinking about grapes and wine for 7 years and woke up one morning and remembered I could mix drinks!

And then, the challenge. With our farm winery license, I am only permitted to use products that I make myself. So like a chef on a cooking show, I had my basket of ingredients and set to work mixing and blending and found that the brandy, under certain conditions becomes a neutral spirit. I can highlight it when I want to show it off like in our Brandy Alexander, or turn down its brandiness and dress it up as tequila in our Apple Spice Margarita.

The rules and standards in the wine world have long since been set. There is not a lot of room for experimentation. It's very disciplined and structured. But with cocktails, while there are of course the classics, there is also endless space for experimentation. We make all our own flavored syrups, tinctures, spirits, fresh juices and of course, our wine. The combinations are truly endless. We look forward to continuing our cocktail journey by growing our own herbs and ingredients for our farm focused cocktail.

Find us in our new cozy bar nestled in the winery tasting room for a cocktail!

Cheers
About our brandy
Enjoy this Woodstock-grown-and-produced fine brandy. This Spirit of Woodstock has aromas of vanilla and brown spices with a smooth finish that lingers and delights. It is perfect as an aperitif, or for after dinner with dessert. The brandy is made from red grapes grown on our vineyard and fermented into wine on the estate. After distilling in a copper pot still locally at Westford Hill Distillers, the brandy is aged for over two years in new Hungarian Oak barrels, and finally, blended by the winemaker at Taylor Brooke Winery. This brandy drinks more like a whiskey.
Menu:
Apple Spice Margarita
taylor brooke brandy * housemade honey simple syrup * hard cider * apple cider concentrate *fresh squeezed lime juice served on the rocks cinnamon sugar rim or not
(it really tastes like tequila)
The Boy Is Mine
taylor brooke brandy * taylor brooke st. croix. rose * homemade orange simple syrup * housemade rosemary simple syrup * fresh squeezed lemon juice * dried rosebuds *orange twist served up in a coupe
(we love all the Brandys)
Lavender Prince
taylor brooke brandy * housemade lavender simple syrup * fresh squeezed lemon juice * taylor brooke bubbly brooke (sparkly sauvignon blanc) * lemon twist *served up in a coupe
(it's the right amount of lavender, I promise)
Cranberry Thyme Fizz
taylor brooke cranberry riesling * housemade thyme simple syrup * fresh squeezed lime juice *topped with club soda *served in a mason jar
(if you don't like brandy, but want a cocktail)